When it comes to stains, it is generally best to react fast. The older the stains, the harder it is to remove them from the fabric and the greater the risk that visible residues remain.

Ideally, distilled water should be used for stain removal and upholstery cleaning to avoid unsightly white edges on stains. Dried-on, encrusted stains should be moistened before removal is attempted. Do not pluck, as this may damage the upholstery fabric! Carefully sponge away at stains with an absorbent cloth or spoon. Do not rub soiling deeper into the upholstery fabric.

Always work your way in from the outer edge of the stain to prevent the stain from spreading. Protein and grease-based stains can usually be removed easily with soap and water: prepare a lye solution made of warm water and mild detergent. For light-colored covers, the addition of a commercial stain removal salt can be helpful. Wash the stain from the fabric over a large area and with plenty of water. Repeat the process if necessary until the stain is no longer visible. Then remove any soap residue with plenty of clean water, dab dry with a cloth and allow the fabric to dry completely at a normal temperature.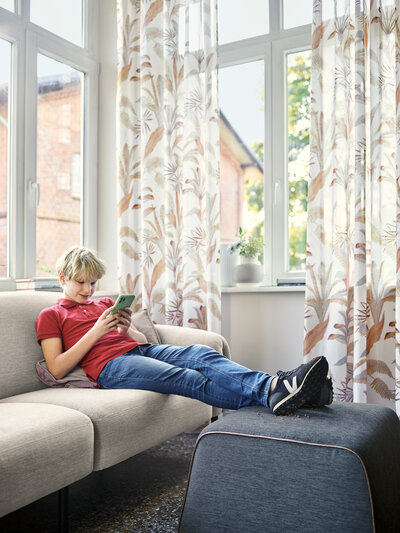 The following applies to all cleaning procedures:
• Refrain from using the furniture until it has completely dried
• If the upholstery fabric is stain repellent, reactivate it by ironing the completely air-dried upholstery fabric
• Never blow dry stain-repellent fabrics